The Purpose and Legislation of Aerodrome Safeguarding
Aerodrome Safeguarding ensures the safety of aircraft manoeuvring on the ground, taking off, landing or flying in the vicinity of the aerodrome.  
Aerodrome safeguarding is a legal requirement under ICAO (International Civil Aviation Organisation) and the UK CAA (Civil Aviation Authority). The processes undertaken to safeguard aerodromes are regularly audited by the UK CAA (Civil Aviation Authority).
Certain aerodromes are protected in law by UK Government (Department for Transport). These certificated and licensed aerodromes are currently listed in ODPM/DfT Circular 01/2003 'Safeguarding of Aerodromes, Technical Sites & Military Explosives Storage Areas Direction'. This measure ensures that aerodrome operators are statutory consultees in the planning process and can check that the safe operation and development of their aerodromes are not impacted by external developments. The circular for England & Wales can be found on the Government website and for Scotland you will find it on the Scottish Government website.
Consultations
The Government directs Local Planning Authorities (LPAs) to consult with officially safeguarded aerodromes. The aerodromes lodge safeguarding maps with the LPAs and whenever a development of a specified height is proposed within the colour coded area (distances may vary between aerodromes) a consultation is required. There will also be a 13km wildlife circle depicted on a safeguarding map, in which the aerodrome will wish to be consulted on any developments that have the potential to attract wildlife; birds will be the main concern in the UK.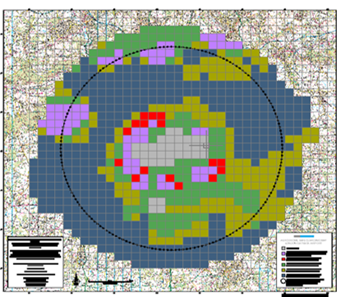 Some aerodromes will also have a renewable energy safeguarding map within which the LPA will need to consult the aerodrome about wind turbines.  These typically extend out to 30km but can vary between aerodromes.
The consultation process enables an aerodrome to comment on any development that may affect its existing or future operation. Please refer to the above-mentioned circulars and CAP 738 'Safeguarding of Aerodromes' for further information.
Non officially safeguarded aerodromes do not have the same protection so are encouraged to take steps to protect their aerodromes from the possibility of adverse development by establishing an agreed consultation procedure between themselves and the LPAs. For further advice please refer to CAST GA1: 'Safeguarding Guidance to General Aviation Aerodrome Managers & Operators' for further information.
Prior to formal consultations on planning applications from the LPA, aerodromes also welcome pre-application enquires from LPAs, developers and other organisations and also consultations in relation to planning policy. Please note that some aerodromes will make a charge for giving pre-application advice.
If a proposed development raises aerodrome safeguarding concerns, an aerodrome may need to engage with the developer to ask for further information or to request design amendments to a scheme. Aerodromes are always keen to work with LPAs, developers and others to find solutions suitable to all parties where possible. The aerodrome may ask that conditions be added to a planning consent to enable it to go ahead without presenting a flight safety hazard.
Aerodrome Safeguarding Considerations
When assessing a development for any potential impacts on aviation safety there are many factors that need to be considered as follows (this list is not exhaustive):
Provide page feedback
Please enter your comments below, or use our usual service contacts if a specific matter requires an answer.
Fields marked with an asterisk (*) are required.