Bowtie is one of many barrier risk models available to assist the identification and management of risk and it is this particular model we have found (and are still finding) useful.

These pages explain:
what a bowtie can be used for,
how it can help you,
how to go about the methodology and
what to look for within a model.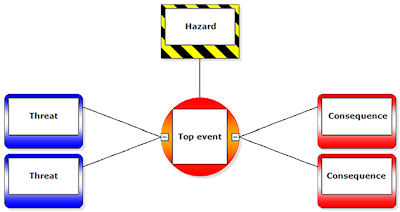 This information is based on how the CAA has gone about producing their own bowties with assistance from Across Safety and CGE.
There are different ways to go about a bowtie but we recommend trying different processes to see what works for you. We hope you can see the benefits in our approach which has been based on the bowtie software BowTie XP. However, the terminology for the bowtie elements can be applied when using other methods to create a model such as on Visio, post-it notes or in Excel spreadsheets.
The assessment of the bowtie elements which helps in identifying the safety and risk priorities can also be applied without using the specific software – it is all part of the risk conversation to appreciate where those improvement areas are in the aviation system.
To start our bowtie journey, numerous bowties were created which focused on the Significant Seven (Runway Incursion, Ground Handling, Fire etc) and the relevant risks. These bowties were jointly constructed by industry experts and colleagues from the CAA and provide useful to worldwide aviation organisation to start their risk conversations. The Significant Seven have since evolved into EASA Key Risk Areas and our bowtie models are being updated to continue to support our risk work.
Owing to the ongoing update of the Significant Seven bowties, the bowtie library is no longer available to download for external users.
Provide page feedback
Please enter your comments below, or use our usual service contacts if a specific matter requires an answer.
Fields marked with an asterisk (*) are required.