It is possible that only 50% of UK ground handling related errors are currently reported to the CAA through their Mandatory Occurrence Reporting (MOR) scheme.
The study of human factors is central to the CAA's safety regulation approach. The Human Factors Subgroup (HFS) was developed to investigate and address human factors in ground handling, including ensuring that there is an open reporting culture across the ground handling discipline with a view to increase reporting.
Feedback from the ground handling industry shows that the present culture frequently apportions blame, which in turn discourages the reporting of incidents. Therefore, the cause of the incident is often not identified or addressed. This could lead to a re-occurrence of the incident and also contribute to unreported ground damage events.
Just Culture statement created and agreed by GHOST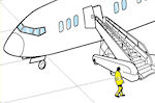 "A just culture is one that is fair and encourages open reporting of accidents and incidents. However, deliberate harm and wilful damaging behaviour is not tolerated. Everyone is supported in the reporting of accident and incidents."
All GHOST members have signed up to working towards achieving a just culture.
GHOST has produced various guidance materials to assist ground handling providers to implement a just culture.
Supplement to CAP 382 – Guide to Ground Safety Reporting
The CAA is aware that ground handling incidents are significantly under-reported, due to a lack of awareness of what is mandatory to report to the CAA. As a result, the CAA and GHOST have developed a booklet 'Guide to ground safety reporting' aimed at your front line supervisors. It is a supplement to CAP 382 and highlights what types of incidents, accidents and near misses are reportable under the MOR Scheme by law.
This guide can be used as an opportunity to re-iterate the importance of reporting to internal systems as well as to the MOR scheme.
Just Culture internal campaign materials
The HFS has produced an 'off the shelf' internal 'Just Culture' campaign for airports/ground service providers to use to promote an open reporting culture within the workplace.
Materials include:
Posters displaying the Just Culture statement
Folders
Stylus pens
Reporting aide card for staff passes / lanyards
The campaign will help to raise awareness of Just Culture amongst staff and stakeholders and promote an open reporting culture with the overall aim of improving safety for industry and people.
All requests for design files and material should be sent to ghost@caa.co.uk. Links to online material are on our GHOST page.
Provide page feedback
Please enter your comments below, or use our usual service contacts if a specific matter requires an answer.
Fields marked with an asterisk (*) are required.