Summary
The Airspace Change Organising Group (ACOG) was set up to prepare the airspace change masterplan.
The masterplan is a single coordinated implementation plan for airspace changes in the UK up to 2040.
The changes that make up the masterplan will upgrade the UK's airspace and deliver the objectives of airspace modernisation.
Content of the masterplan
The masterplan is being produced by ACOG in stages. More detail is added with each iteration.
Across all iterations, the masterplan will:
identify where and when airspace change proposals are needed, with proposed timelines for implementation
describe how these proposals relate to each other, and highlight potential conflicts between their designs
explain how trade-off decisions to resolve those conflicts have been made
demonstrate the anticipated cumulative impact of all the airspace change proposals.
Constituent airspace change proposals
In Iteration 2, ACOG proposed organising the participants into geographical clusters. We accepted this approach in October 2022.
Each cluster has at least one high-level 'network' airspace change proposal (ACP), sponsored by the UK En Route air traffic control provider, NATS.
ACOG is coordinating ACPs from the following airport participants (TMA means Terminal Control Area):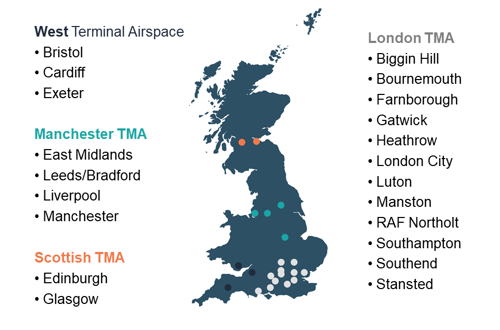 London TMA
Biggin Hill
Bournemouth
Farnborough
Gatwick
Heathrow
London City
Luton
Manston
RAF Northolt
Southampton
Southend
Stansted
West Terminal Airspace
Manchester TMA
East Midlands
Leeds/Bradford
Liverpool
Manchester
Scottish TMA
Provide page feedback
Please enter your comments below, or use our usual service contacts if a specific matter requires an answer.
Fields marked with an asterisk (*) are required.